Rosa Mei Ning – Worsley Health Center
By Merissa May
---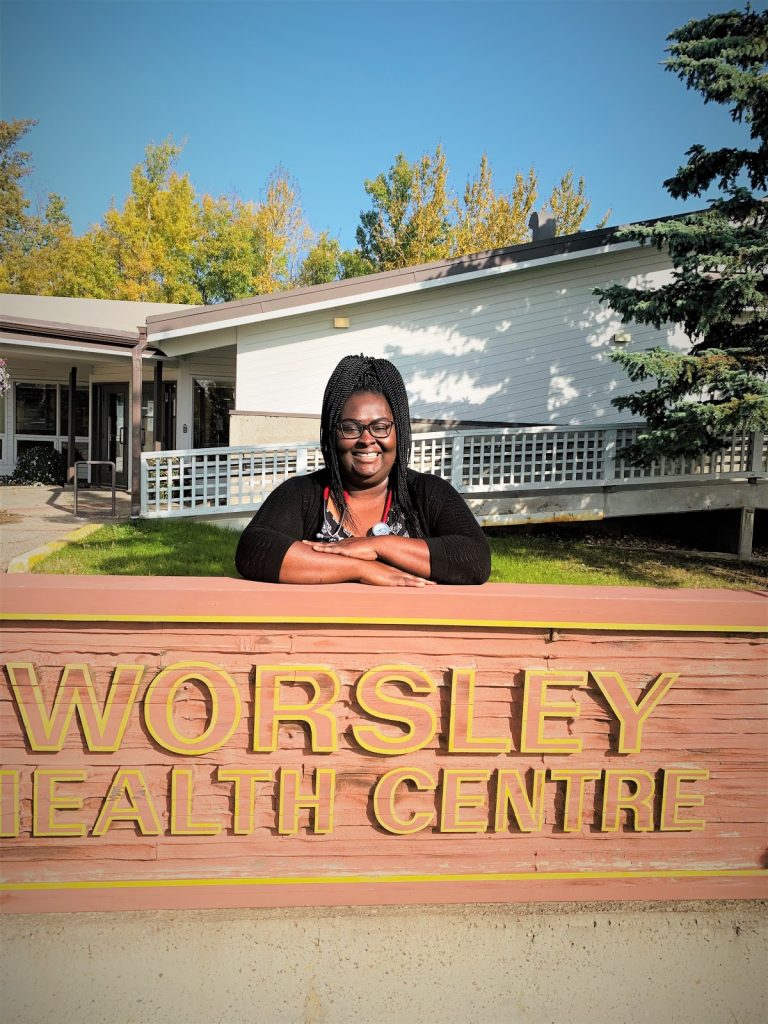 Working as a Home Care RN in rural Alberta made me realize there were additional cost effective interventions known to enhance patient outcome and speed up recovery that were beyond the Scope of Practice of a RN. The desire to increase access to healthcare services especially for underserved rural and remote communities prompted my enrollment in the MN-NP program.
Describe the experience of your transition from RN to NP practice
I was excited with my new role as a NP but was equally nervous and anxious about failing especially during the first 6 months of practice. I second-guessed my competencies, abilities and leadership skills. As the only clinician on site, I was worried about making the wrong diagnosis or prescribing the wrong medication that could potentially result in an adverse patient outcome. I overcame these fears by drawing strength from my past transition experience into the RN role. I felt reassured I could do this after reaffirming that I had gone through a vigorous program, had acquired the knowledge and skills needed for the job and passed the licensing examination that qualifies me to practice. I also had to acknowledge I was a novice NP who needed time, mentorship and exposure to become a competent NP. As such, I scheduled patients with enough time in between for review and research as necessary. I had a few peers, experienced NPs and physicians on speed dial for consultation, collaboration and mentorship.
How did you land your first job as an NP?
As much as I was looking for any NP job opportunity after graduation, I was praying for one that would utilize my skills, present challenges and trigger professional growth. When I applied for my current position the first time, I was not granted an interview (probably because I had zero experience). Although getting this job meant relocating 1041 km from the city Brooks in southeast AB to the hamlet of Worsley; a remote community in northwest AB, it did not deter me from reapplying. Hard to believe it's been 3+ years already and I am still loving everything about my role, my job, the community I serve and the scenery of northern Alberta. The view of wildlife from my office and kitchen windows is quite a sight to behold.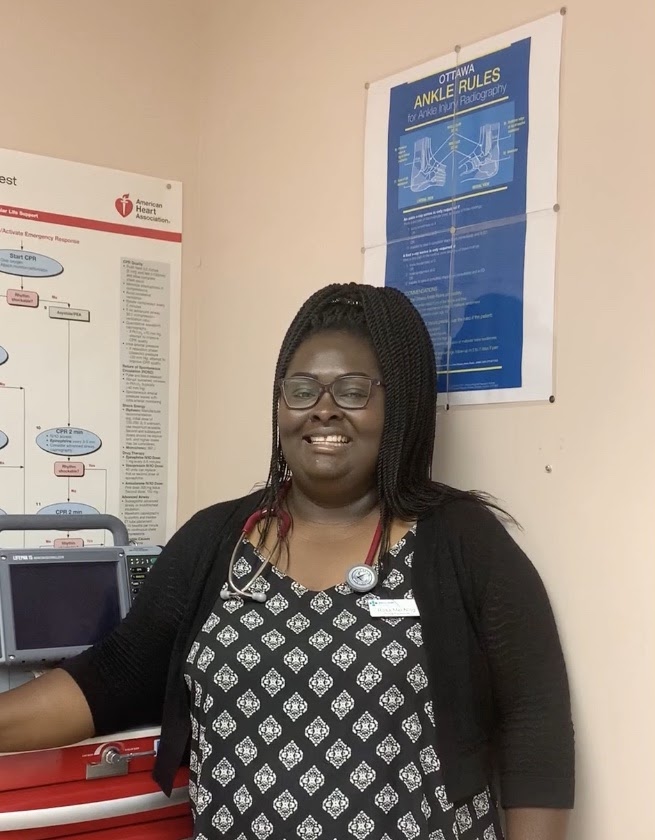 Can you tell us a bit about your current clinical environment (e.g., where you work, with whom you collaborate, etc).
I work at the Worsley Health Center which is the only clinic located in Clear Hills County. I am the only clinician at the clinic in addition to a clerk, a home care nurse and workplace health and safety staff. There is a visiting public health nurse and a mental health therapist. An EMS crew is also stationed at the clinic. Public health and home care nurses regularly refer patients to me for follow up. The physicians from Fairview often collaborate on the care of patients who live in the area with me and vice versa. I usually refer to and collaborate prenatal care with Obstetricians/Midwives in Grande Prairie, Peace River and Fort St. John depending on where the patient chooses to deliver. I also consult ER physicians and specialists at tertiary hospitals occasionally in the case of a patient emergency.
What does your typical day look like?
Patients call the clerk and schedule appointments for acute illnesses, chronic disease management/exacerbation, wellness checks, prenatal care, well-baby visits, prescription renewals, pre-op physicals, immunizations and cancer screening procedures such as pap tests. I typically see patients according to their appointment time at 15 or 30 minutes appointment intervals depending on the case. Sometimes, patients walk-in with urgent/emergent care needs and these take priority. A typical day for me varies from season to season. The fall, winter spring seasons are generally the busiest. During summer, there are less scheduled patient visits and more walk-ins with urgent/emergent care needs such as wound care post fall, allergic reaction from a bee sting and nail puncture injuries.
Describe one significant learning about the role of the NP within your current practice environment.
Emergency medical experience was recommended for this position, and after the past 3+ years, I would say it should be a requirement because of the small but steady number of emergency cases that come my way. Normally, people just don't show up at the doctor's clinic with uncontrolled nosebleeds and crush injuries.. but they do here. The distance from Worsley Health Center to the nearest health center is 1hr so having emergency medical experience would make for better patient outcomes. Because of this, I am in search of an emergency medical course/program that will enhance my skills in that area..
How does your role fit within established health care roles in your area?
My role is bridging the gap by making health care available and accessible to this community. Without the NP role, accessibility to health care is challenging. Securing a family doctor is challenging due to physician shortage in this area. Physician turnaround is high, and those who are here are not accepting new patients. In my 3 years of practice, 4 physicians have moved to Worsley and back to bigger cities.
Some patients from the AB/BC border localities such as Bear Canyon would have to drive 2hrs to see the closest doctor in Fairview AB compared to driving for 1hr to see me. Those in the hamlet of Cleardale would have to drive 1.5hrs to Fairview compared to driving for 30 minutes to see me. Those in the hamlet of Worsley would drive 1hr to Fairview compared to 5 minutes to see me.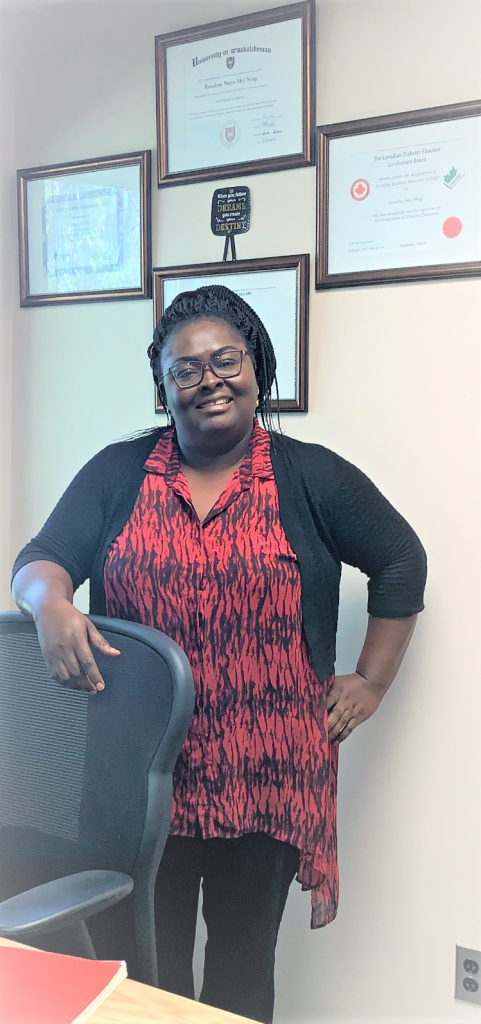 Describe the challenges you face in your position.
Working alone and not having any other clinician on site to consult and collaborate care for challenging cases.
How can the NPAA support NPs working in your practice area?
NPAA can support rural NPs by highlighting the need for accessible care, the importance of the NP role in underserved communities and the increased turnover for rural clinicians. NPAA can use their platform to advocate for incentive programs that will attract more NPs to rural areas and encourage them to continue to work in these settings for longer periods.
What do you feel is unique about your practice role?
My practice role is unique because I often wear multiple hats. In addition to the clinical role of a NP, I often fill-in as a home care nurse, public health nurse and pharmacist when needed. I take on home care patients for medication administration and wound care for longer periods of time to make up for vacant positions. I administer immunizations when the public health nurse is unavailable. I prescribe and dispense antibiotics to sick children when needed because the closest pharmacy is 1hr away.
What do you feel is the biggest impact of the role of the NP in your practice setting?
Increasing health care accessibility to this community is the biggest impact of the role of the NP in my practice setting. As a family NP, I am easily accessible to all age groups. I can autonomously diagnose and treat illnesses, order diagnostic tests and interpret results, prescribe medications, perform medical procedures and refer to specialists when necessary.
Advice for NP students who want to work in rural/remote practice settings?
Know your strengths and your weaknesses. Be willing to ask for help when needed. Surround yourself with a network of peers, experienced NPs and physicians for guidance and mentorship. Pass on what you have learned to other NP students because they may be the ones caring for you in the future.
---
Editor's Note: Many rural areas are hoping to incorporate NPs in their health care models. Novice NPs will encounter challenges in remote areas, but incredible opportunities to practice to their full scope. Consider checking out the Rural Health Professionals Action Plan: @AlbertaRhPAP https://www.facebook.com/AlbertaRhPAP/