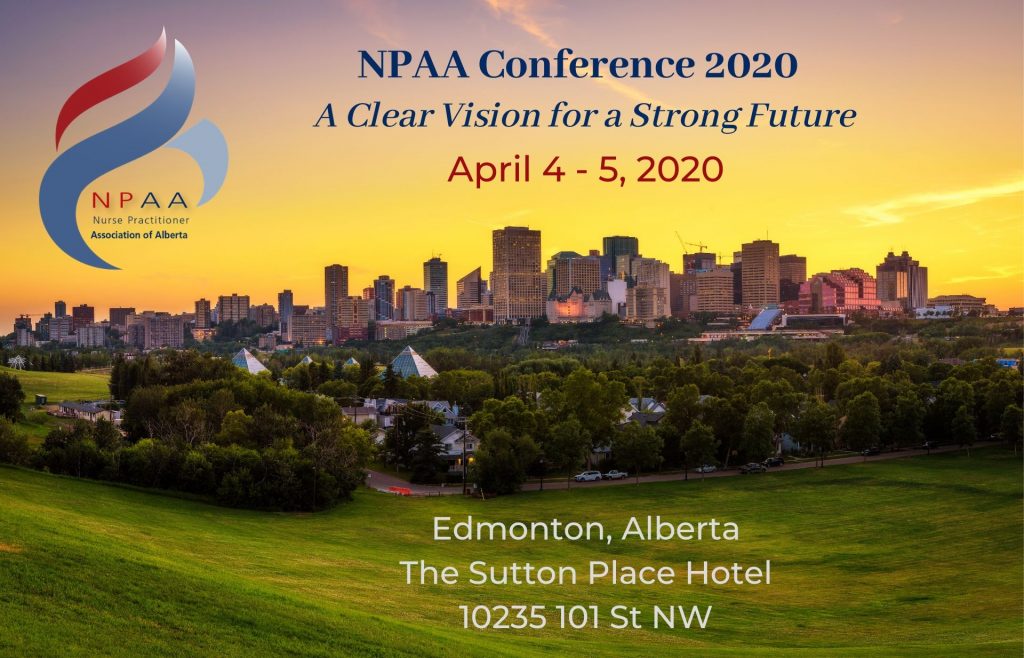 NPAA Conference Update
The NPAA will be complying with the Alberta government mandate to avoid all gatherings of more than 250 people, especially those including individuals with critical infrastructure responsibilities. Since the NPAA 2020 conference falls within this category, our conference committee is working with the Sutton Place Hotel to reschedule the conference for the fall. We are also consulting with our ticket sales vendor to determine the best process for ticket refunds. Registrants will be contacted personally with further details. 
As per our bylaws, we are required to hold our Annual General Meeting this spring. The Board will be replacing the in-person meeting with a virtual meeting to ensure our members are informed of the work of the association in 2019-2020.
Please email secretary@albertanps.com to be added to the list for the AGM.
16th Annual NPAA Conference
The Nurse Practitioner Association of Alberta is excited to be hosting the 16th Annual Nurse Practitioner Conference in the heart of Downtown Edmonton at the Sutton Place Hotel.
We are planning some exciting speakers with updates relevant to your practice. Included in our conference are specialists and NPs from across Canada. The conference will provide you with an opportunity for professional growth, along with a chance to engage and network with colleagues from across Alberta and Canada.
Ticket Prices
Early Bird Registration (Deadline March 16th, 2020)
NPAA Member $295
Non-Member $450

Late Registration
NPAA Member $345
Non-Member $495

Student Registration
Student Member $200
Student Non-Member $300

One-Day Conference Fee
One Day $200
Conference Program
Download the 2020 NPAA Conference Program
Hotel Discount
The Sutton Place Hotel offers a discount on your conference stay. Stay at the Sutton Place Hotel for only $144/night.

Reserve your hotel by March 17th, 2020 to guarantee access to the group rate, after this date the group rate is available based on hotel room availability.

Reservations can be made via telephone 1-866-378-8866 or email rescoordinatoredm@suttonBlAriglo_tr

In order to receive the group rate please provide the code "ED200403NUR" when reserving your hotel.
NPAA Membership
All NPs and student NPs are welcome to join the NPAA! NPAA membership keeps you in touch with what is happening in the NP field, provincially and nationally. Further, for those who are interested in the NPAA and are from other disciplines they may obtain an associate membership.

The benefits of membership are numerous some include: a 20% discount to the dermatology clinical support tool VisualDx, an UptoDate discount valued at $200, access to the member-only NPAA Forum and NPAA representative contacts.

All for only $140. Please see the NPAA website for further information on NPAA Membership benefits and application process.
Committee Members
Emily Thiessen MN NP – Director of Education
Faisal Kassam MN NP and Kim Meier MN NP – Treasurer
Lindsay Thomas MN NP- Speaker Coordinator
Gwen Thompson MN NP – Assistant Speaker Coordinator
Sandi Engi MN NP – Registration Coordinator
Breanne Banister MN NP – Exhibitor and Sponsor Coordinator
Nurin Dhanji MN NP- Marketing Coordinator
Dana Letto MN NP- Donation Coordinator
Contact Us
If you have any conference-related questions please contact the Director of Education at education@albertanps.com.